The Committee / Le Comité / Das Komitee

Vice-President
Bernhard Lindner

(Germany)
read more
lire la suite
mehr dazu

Vice-President
Andrzej Przeździecki

(Poland)
read more
lire la suite
mehr dazu

Treasurer
Thomas Kräuchi
(Switzerland)
read more
lire la suite
mehr dazu

General-Secretary
Halvor Larsen
co-opted December 2019
died 2020

(Norway)

Past President
Dave Watterson

(United Kingdom)

resigned June 2020
read more
lire la suite
mehr dazu
Advisers / Conseillers / Berater


resigned April 2020
PhDr.Zuzana Školudová

(Slovakia)
read more
lire la suite
mehr dazu


Franka Stas

(The Netherlands)
read more
lire la suite
mehr dazu

resigned April 2020
Mike Whyman

(Britain)
read more
lire la suite
mehr dazu
Special Assistants / Assistants spéciaux / spezielle Helfer

IFTC/CICT (UNESCO)
Serge Michel
(France)
read more
lire la suite
mehr dazu
[retired General-Secretary]
Jacqueline Pante
(Italy)
read more
lire la suite
mehr dazu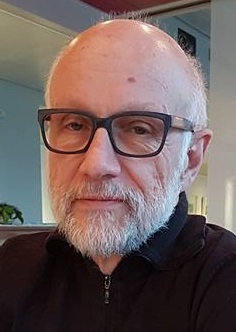 Rolf Leuenberger
Jury Co-ordinato
r
(Switzerland)

Translation
Claire Auda

(Germany)
History of the UNICA Committee:
Presidents / VPs / Secr / Treas. /Spec.Advisors
Advisors / Special Tasks
The committee usually meets three times a year: once during the UNICA Congress, once hosted by a committee member and once at the venue for the next UNICA Festival. Elections are held every third UNICA Congress. Decisions of the committee are mainly subject to approval by the next General Assembly.
Histoire des comités de l'UNICA:
Présidents / VPS / Secr / Trés. /Advisors spéciales
Conseillers / Tâches spéciales
Le comité se réunit habituellement trois fois par an: une fois lors du Congrès de l'UNICA, une fois accueilli par un membre du comité et une fois sur le lieu pour le prochain Festival. Les élections ont lieu tous les trois Congrès. Les décisions du comité sont principalement soumis à l'approbation de la prochaine Assemblée générale.
Die Geschichte des Komitees der UNICA:
Präsidenten / VPs / Sekr / Schtz. /Sonderberater
Berater / Sonderaufgaben

Das Komitee tagt in der Regel dreimal im Jahr: einmal während des UNICA-Kongresses, einmal auf Einladung eines Komiteemitglieds und einmal am Ort des nächsten UNICA-Festivals. Die Wahlen finden alle drei UNICA-Kongresse statt. Die Entscheidungen des Ausschusses stehen im Wesentlichen unter dem Vorbehalt der Genehmigung durch die nächste Generalversammlung.